Project Timeline
The CSPS Project is in the planning phases which is overseen by the Dept. of Technology and requires us to adhere to the Project Approval Lifecycle, otherwise known as PAL. PAL consists of 4 stage gates and each stage must be approved before moving to the next stage. The CSPS Project is currently in Stage 4.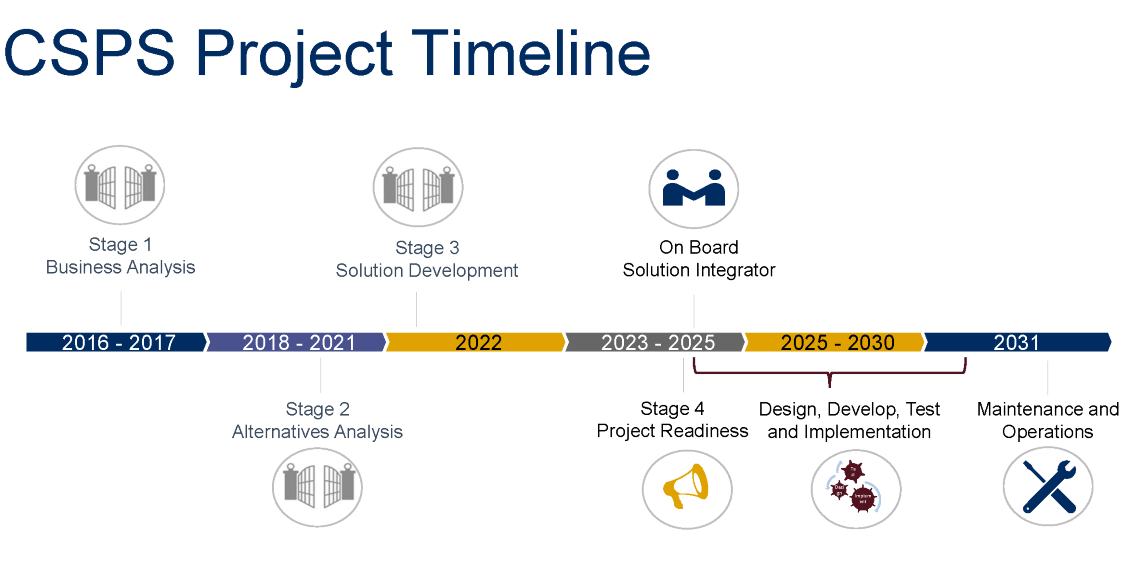 Stage 1: of the PAL is where we developed the business case, strategic alignment and assessed the organizational readiness for moving forward with the CSPS Project.
Stage 2: is where we performed a current state assessment, performed market research, developed solution requirements and conducted an alternatives analysis and put forth a recommended solution
Stage 3: is where we are developing the solicitation materials and finalizing our evaluation methodology.
Stage 4: is where we release the solicitation to the vendor community, select the vendor and system and finalize our project budget and schedule.
After completion of the PAL we move into the project execution phase where we design, develop, test, and implement the solution to meet the business needs. This is anticipated to take approximately 5 years for full implementation to all state entities.
After full implementation we move into maintenance and operations.
About
What are we doing now?