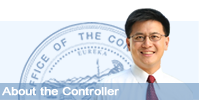 Quick Links
Contact Us
Sacramento
P.O. Box 942850
Sacramento, CA 94250-5872
(916) 445-2636 Office
(916) 322-4404 FAX
Los Angeles
777 South Figueroa Street,
Suite 4800
Los Angeles, CA 90017
(213) 833-6010 Office
(213) 833-6011 FAX
---
Latest News From the Controller's Office
Chiang Offers Plan To Address Unfunded Retiree Health Liability
State Controller John Chiang has released a new report showing the $71.81 billion unfunded liability of providing health and dental benefits for state retirees. Read the news release, which details the Controller's plan for addressing the issue. Read the report.
Controller Adds Fresh City, County Salary Info To Database
Controller John Chiang has updated his employee compensation website by releasing 2013 city and county data and an improved tool to identify elected officials in payroll records. Visit www.PublicPay.ca.gov, watch tutorials and read the news release in English and Spanish.
Controller: Create Something New With Data
Controller John Chiang and Controller-elect Betty T. Yee invite everyone to take part in a Build-a-thon to create apps, databases and interface tools with new government financial data posted at ByTheNumbers.sco.ca.gov. Read more in English and Spanish about the Build-a-thon and the release of raw financial data for thousands of California special districts.
November Revenues Fall Short of Estimates
Controller John Chiang reports California's November revenues totaled $6.4 billion, falling short of Budget Act estimates by $154.7 million, or 2.3 percent. For the fiscal year to date (July 1-November 30), total revenues reached $34.3 billion, beating estimates by $1 billion, or 3.1 percent. Read the news release in English and Spanish, the summary analysis and the financial statement.
Property Worth Up to $1,000 Can Now Be Claimed Online
Just in time for the holidays, Controller John Chiang announces that unclaimed property worth up to $1,000 can now be claimed online. Read the news release in English and Spanish, begin a search and watch a tutorial.
Additional Information on California Fiscal Issues